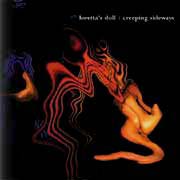 LORETTA'S DOLL : CREEPING SIDEWAYS

the first new release from this band since 1998's acclaimed 'nocturnal arcade' is also their darkest and weirdest. bryin dall (4th sign of the apocalypse), scott reiter (coin of the realm), kevin dunn (kobe), and kevin wahlen (athanor) were joined by derek rush (dream into dust) for this album. although there are a few song-oriented tracks, the majority of the pieces are semi-structured dark electro-experimental soundscapes. organic and synthetic textures blend together to create a unique sound informed by electronic, experimental, and gothic styles. minimal and unusual vocal performances range from spoken to crooned and everywhere in between. one track features frequent phantom member orson welles, while genesis p-orridge guests on another.

streaming mp3 clips

saved | nature | song of solomon | albemuth
covered in the wild roses | center of nothing | the disconnected | crawling over the face of the moon (for a.v.)

this item is temporarily out of stock. please see middle pillar to order.