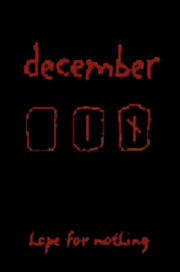 this was the solo project of derek rush before dream into dust.
hope for nothing was released in september 1995, on black shell, hi-bias chrome tape, professionally printed with lyrics in a limited, numbered edition of 500.
out of print.

this release is under consideration for a remastered CD reissue,
with extra tracks recorded during the same time period, some previously unreleased.
please email if you're interested in this happening.

review excerpts:




asylem usa
poetic, artistic, intentional, meaningful, magical, touching...this gets as close to exquisite as I've heard in a long while... it's soft in places, but full; and when it attacks, it does so with intention, not random noise...it actually expresses human emotion rather than the coldness of machines or the factory-generated angst inherent within too much of today's "dark" music.

fight amnesia germany
obscure and grim ballads on acoustic guitars, atmospheric piano songs, dark poems over wind-effects, not to forget the occasional yet intense tribal drums and the dragging, slow pieces that will get you into a gloomy mood and will transport you to the high cliffs over the stormy sea in wintertime.

aether sanctum australia
this band we know nothing about, except that they come from new york and have a fantastically produced (cd quality) cassette...sweeping and black guitars painting the backdrop for extremely nihilistic lyrics. gloomy, grim, and goddamn terrific.